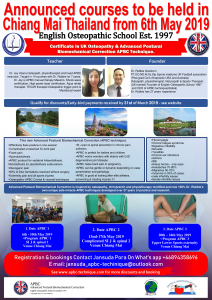 Study Tax free in THAILAND a paradise holiday and seminar
Course limited to 10 participants for an exclusive one to one small group study.
Three teachers to 10 students
---
WOW 😮 Discounts for early payment
Payment in FULL before March 31st 2019 get seminar deal
APBC 1 & 2 = $2800 USD
APBC 1, 2 & 3 = $4,000 USD
BOOK SOON & SAVE
After DEADLINE March 31st
Fees APBC 1 & 2 $3,390 USD
APBC 1, 2 & 3 $ 5,085 USD
Payments to head teacher Joy Intana Paypal: freshy_tree@hotmail.com
International bank transfer kindly contact E mail: apbc_technique@outlook.com
Booking details please use online registration form 
Award given by English Osteopathic School 
Certificate in UK 🇬🇧 Osteopathy and fellowship certificate in Advanced Postural Biomechanical Correction APBC technique
Dr Robbie Goodrum Founder Advanced Postural Biomechanical Correction (APBC Technique)

Venue: Chiang Mai Thailand May 6th 2019
---
APBC PART 1 
Dates: 6th-10th May 2019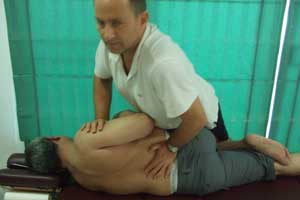 'Certificate in Advanced Postural Biomechanical Correction'

5 days for specific manipulation, mobilization with precise segmental contact points & vectors, to correct subluxations of Pelvic Girdle, including the Ilia, Sacrum, Coccyx & pubic joint.
Easy APBC Techniques for Lumbars, Thoracic, cervical motor units for Zygapophyseal facet joints subluxation.

Treatment for whiplash, Tech-neck, lumbago, lumbar, cervical & thoracic facet-syndrome, TMJ treated with ease, (Occiput subluxations, upper cervical spine(C1/2, cervicogenic-headaches) Spondylolythesis,
globally twisted rib cage, Costochrondritis, all Ribs issues. Including systematic easy differential diagnosis with APBC orthopedic and new APBC neurology testing.
Advanced Postural Biomechanical Correction APBC technique corrects the patients overall posture & protect the practitioner with optimum ergonomics.
---
APBC Part 2 Dates: 13nd-17th May 2019


'Fellowship certificate in Advanced Postural Biomechanical Correction masterclass'
All Disc pathologies & complicated SI J Issues. (Extra subluxations for Retrolisthesis, anterolisthesis & laterolisthesis in the entire vertebral column.
5 days for Advance course for manipulation, mobilisation, soft tissue fascia APBC
re-organisation techniques for full spine & pelvis.
An introduction to visceral & cranial osteopathy, medical abdominal examination &
a new exciting technique for neurogenic pain which turns chronic pain off in an instant like a miracle.
Prerequisite for APBC part 2 is completing APBC part 1 with Dr Robbie Goodrum & team in india as new material.
---
APBC part 3 Dates: 20th – 24th May 2019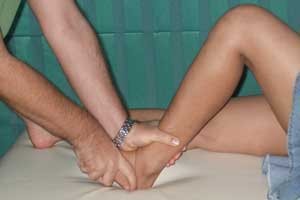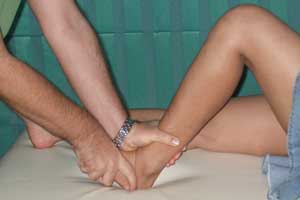 'Fellowship certificate in Sports Extremity Manipulation'
Become an expert in upper, lower, safe extremity specific manipulation & mobilization. APBC soft tissue, APBC fascia-reorganization & amazing new 'APBC ligament balancing methods to correct subluxations in an instant'
Mobilization and manipulation are used for prevention, treatment of sports injuries & general limb pain. wet-needling for neurogenic pain in sports injuries, which turns chronic pain off like a miracle.
APBC nerve massage. Prerequisite to this program APBC part 1.

---
Tax free study & holiday in Thailand with (arranged tours) Shopping, massage, elephant rafting, trekking, tigers mountain & lakes rivers …. paradise !

Q:What is Included in the Fees ?
A: Includes tuition, course book and video of techniques, breakfast, morning tea, lunch and afternoon tea.
4 star accommodation. Accommodation includes for your partner to holiday in beautiful resort.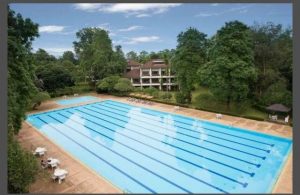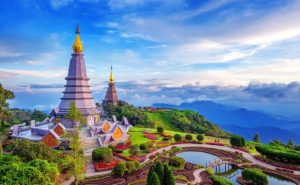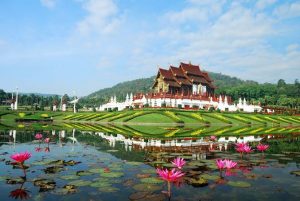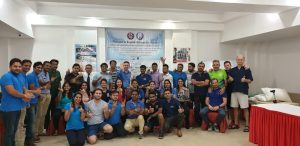 We have 2 head teachers and 1 assistant teachers to guide you in your studies.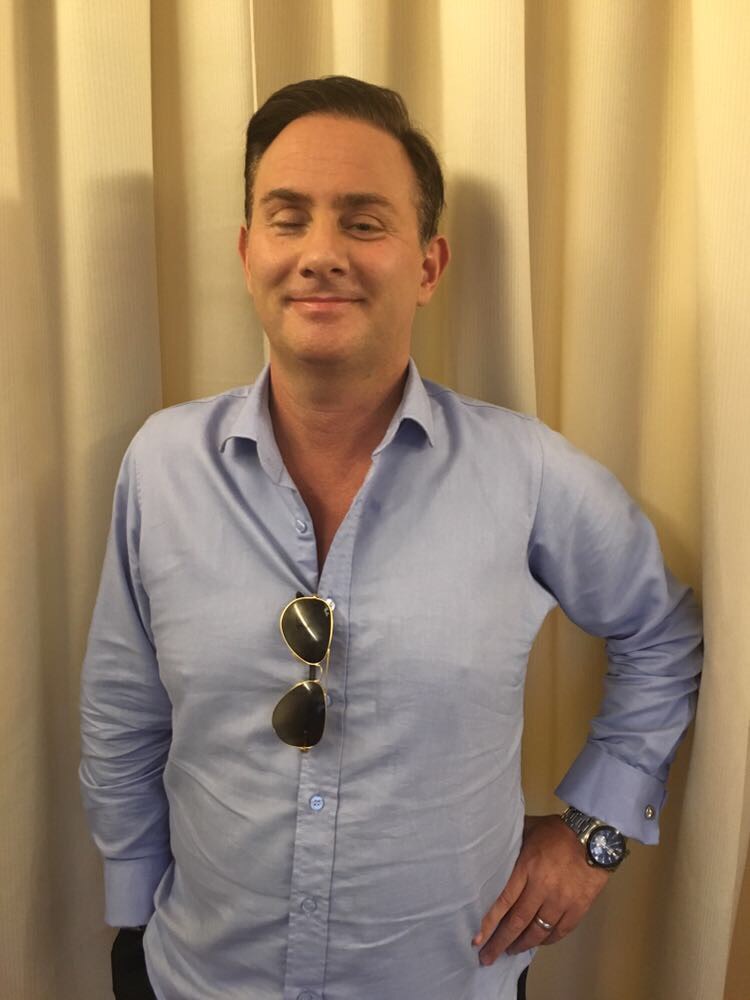 Dr Robbie Goodrum
Advanced Postural Biomechanical Correction APBC technique Founder and director of teaching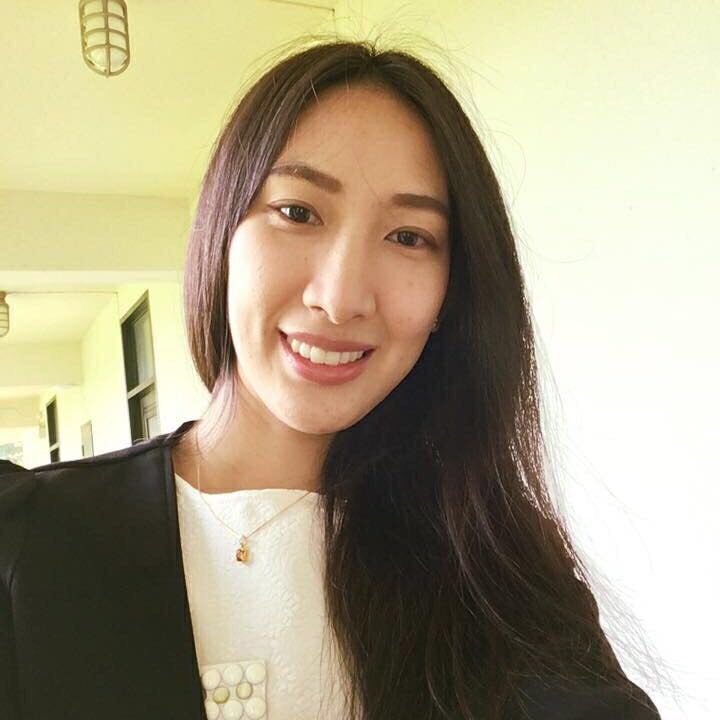 Dr Joy Intana
APBC Head teacher with 8 years full time teaching experience with Dr Robbie Goodrum in 14 countries
---
My team are hand picked because of their talent and skills to assist Dr Joy and myself.
Contact

Dr Robbie Goodrum
 E-mail: robbiegoodrum@icloud.com
 What's app no. +66887586109

Joy Intana
 E-mail: apbc_technique@outlook.com
 What's app no. +66894358696