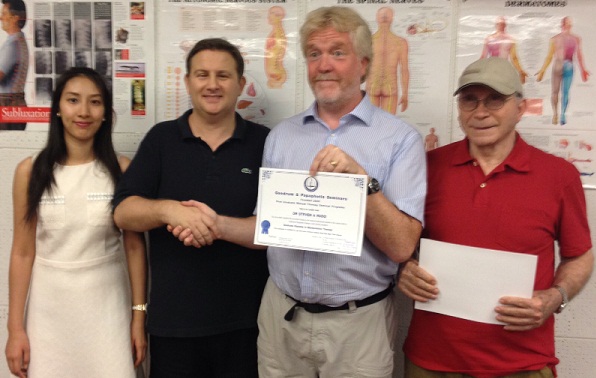 I attended Dr Robbie's Goodrum's Post Graduate course in Manipulative Therapy in the UK & Thailand over 3 x 5 days supported by Dr George Papapotis DC, Ken Leeper DC & Joy Intana PT BSc
As a Chiropractor, I was interested in learning the Osteopathic techniques that he teaches. These techniques were very interesting and new to me. What I was not expecting was such a masterful/presentation of his own Modified Goodrum/Papas techniques as well as the Goodrum/Papas Adjuster Pro, Goodrum/Papas drop table and his modified Goodrum/Papas Adjusting Techniques which is similar to Diversified Chiropractic.
Overall, I found the 15 days very well presented and for me it was an excellent review of techniques that I learnt at Chiropractic college, although assessment and application is slightly different. Plus the course provided an introduction to Osteopathic techniques as well. I now hope to gain my MSc in Osteopathy through following his training program.
It may be surprising to some of my profession to see an osteopath leading a team teaching similar style chiropractic technique but he does so very well indeed, I would have loved to have him teach me as an undergraduate, presenting these techniques in the way he does, which is very clear  
Dr Steve Rudd, DC,ND
Clinic Director
Hygeia
73 Edward Road
Haywards Heath
West Sussex UK
RH164QL
Our mission…

Our mission is to help the professional practitioner perfect their diagnostic and manipulating skills, to enable him or her offer the best to their patients.