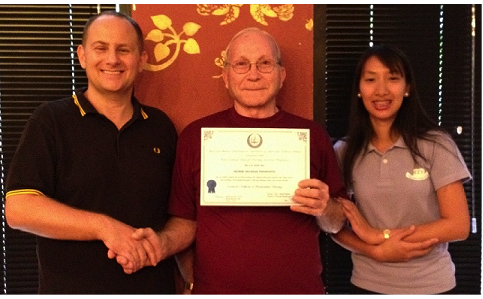 It is a pleasure to recommend you,Dr Robbie, for the excellent job you are doing in teaching osteopaths, chiropractors and physiotherapist how to improve their ability and techniques in serving the public more accurately when they manipulate their Spine. I have been in practice for over 35 years and I can honestly say that when I met you I realize how much more I needed to learn to be able to offer that professional treatment that every patient expects from someone that holds the title of chiropractor or osteopath or physiotherapist.
 It is a known fact that many accidents are happening all around the world by registered practitioners, not will fully, of course, but thou the lack of that extra training that comes from well-experience and well-talented practitioners like yourself and the skillful means by which you are able to manipulate the spine and extremities so precisely together with your special method of diagnosis, which is close to a miracle.
I am impressed and have no hesitation in recommending you for being an excellent teacher in our day and generation. In comparing you with the teachers at our universities today, your ability to teach and your patience, far exceeds theirs due to your great understanding of the human body and its systems and how many of its ills can be corrected through the manipulation of the human spine
It's been the best experience of my 35 year career to meet Dr.Robbie Goodrum and see how he integrates the 3 professions of Osteopathy,Chiropractic and Physiotherapy so well. (You are) a great balancer and healer. (You are) a true Maverick! Thank you, Dr. Robbie For the Excellent work you do in helping our boys to become experts in their professions.
I'm happy to put my name as a chiropractor and osteopath with Dr Robbie Goodrum and Goodrum Seminars. I'm very excited to be part of the Goodrum/Papas Technique.
Best regards
Dr George Papas DC,DO.,ND.
Australia
WA
Our mission…

Our mission is to help the professional practitioner perfect their diagnostic and manipulating skills, to enable him or her offer the best to their patients.