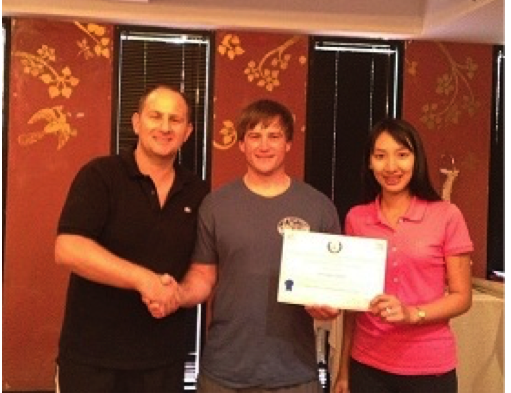 I studied with Dr Robbie Goodrum in both his Certificate/Diploma in Manipulative Therapy and his Extremity Adjustments Course.
The course is a combination of  Modified Goodrum/Papas Osteopathic and Chiropractic Technique blended together with a physiotherapy flare. It is definitely master class and well presented and very practical.
 Well, after studying for three Degrees myself,a BSc in Physical therapy, a Master's in Physio-Manipulative therapy and a Doctor of Physical therapy, which was muscular, skeletal and clinical based, 
I didn't think I'd learn much! This was far from the truth. I did learn so much. And, in fact, after being in a terrible road accident and having a fusion from T3 to C3 as a child, I've been in pain as a Chronic pain sufferer myself with worsening symptoms.It still baffles me today in what  Dr. Robbie did. He literally took all my mid-thoracic, anterior, upper & posterior neck pain away in three treatments!
I'm still amazed today considering I've had hundreds of treatments by MDs, DCs, PTs and DOs, including injections. Although all of them were top in their field, they never helped me. If you're serious about pain management and spinal SI J care, consider this course above all in the field of Manipulation & Spinal Balance.
I still talk every day in my clinic about Dr. Robbie Goodrum to my patients. I'm still pain free as I taught one of my PT's to continue Dr. Robbie's treatment and rehabilitation.  I joked with Robbie and said if you can take my pain away, I'll make a Statue of you in my Clinic
Dr Daniel Bishop, DPT
Bishop Physical Therapy LLC
Phone 251 626 7778
Fax 251 626 7780
1203 Hwy 98 suite (1-C)
Daphne AL 36526
Our mission…

Our mission is to help the professional practitioner perfect their diagnostic and manipulating skills, to enable him or her offer the best to their patients.