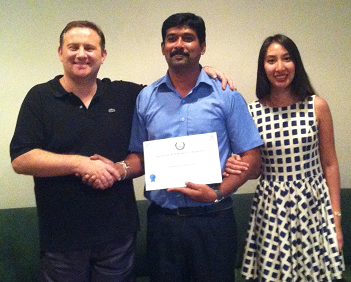 Dear Robbie,
Learning from Goodrum Seminar has been a rewarding experience. This experience has allowed me to put my learning skills into practice while engaging in a rich knowledge bank. This blends skills with management required for spine and related ailments creating a dynamic resource. Throughout my experience, I have received wonderful support from the excellent teacher.
---
Robbie, Joy and George have been wonderful teachers and I thank them for making me learn many things in their own special way. I take this opportunity to thank them for the scrupulous efforts that made me achieve success. This will truly be an experience I will never forgot!
Dr Narkeesh A,MPT(NEURO),PHD(SPINE) 
HEAD & PROFESSOR DEPARTMENT OF PHYSIOTHERAPY 
PUNJABI UNIVERSITY PATIALA PUNJUB INDIA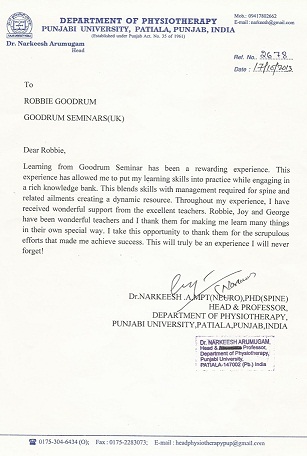 Our mission…

Our mission is to help the professional practitioner perfect their diagnostic and manipulating skills, to enable him or her offer the best to their patients.